The title translates to:
The Wedding of Tsar Dušan – An Action Packed Narrative Poem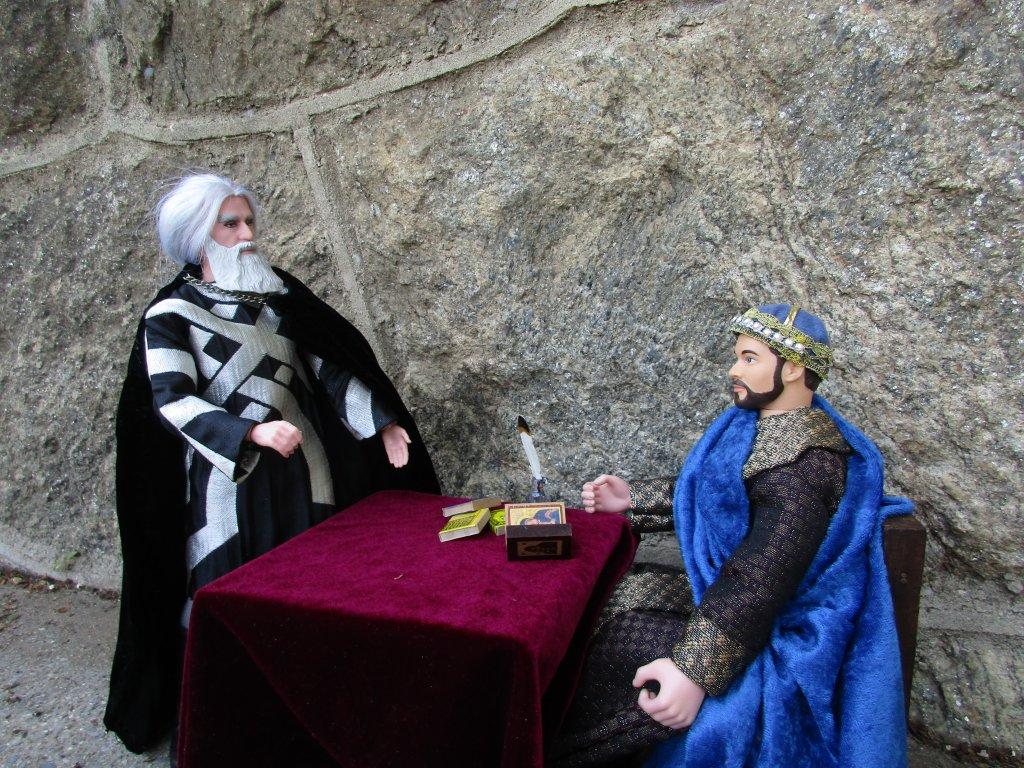 Car Dušan je načas prekinuo pisanje svog zakonika da bi poslao svog vezira Todora u Ledjane kod kralja Mihajla. Vezirov zadatak je bio da prstenuje Mihajlovu kći, Roksandu, i da se sa Mihajlom dogovori o detaljima svadbe.
Tsar Dušan found time in his busy schedule to order his vizier Todor to leave for the city of Ledjane and arrange Dušan's forthcoming marriage to the daughter of king Michael, Roxana.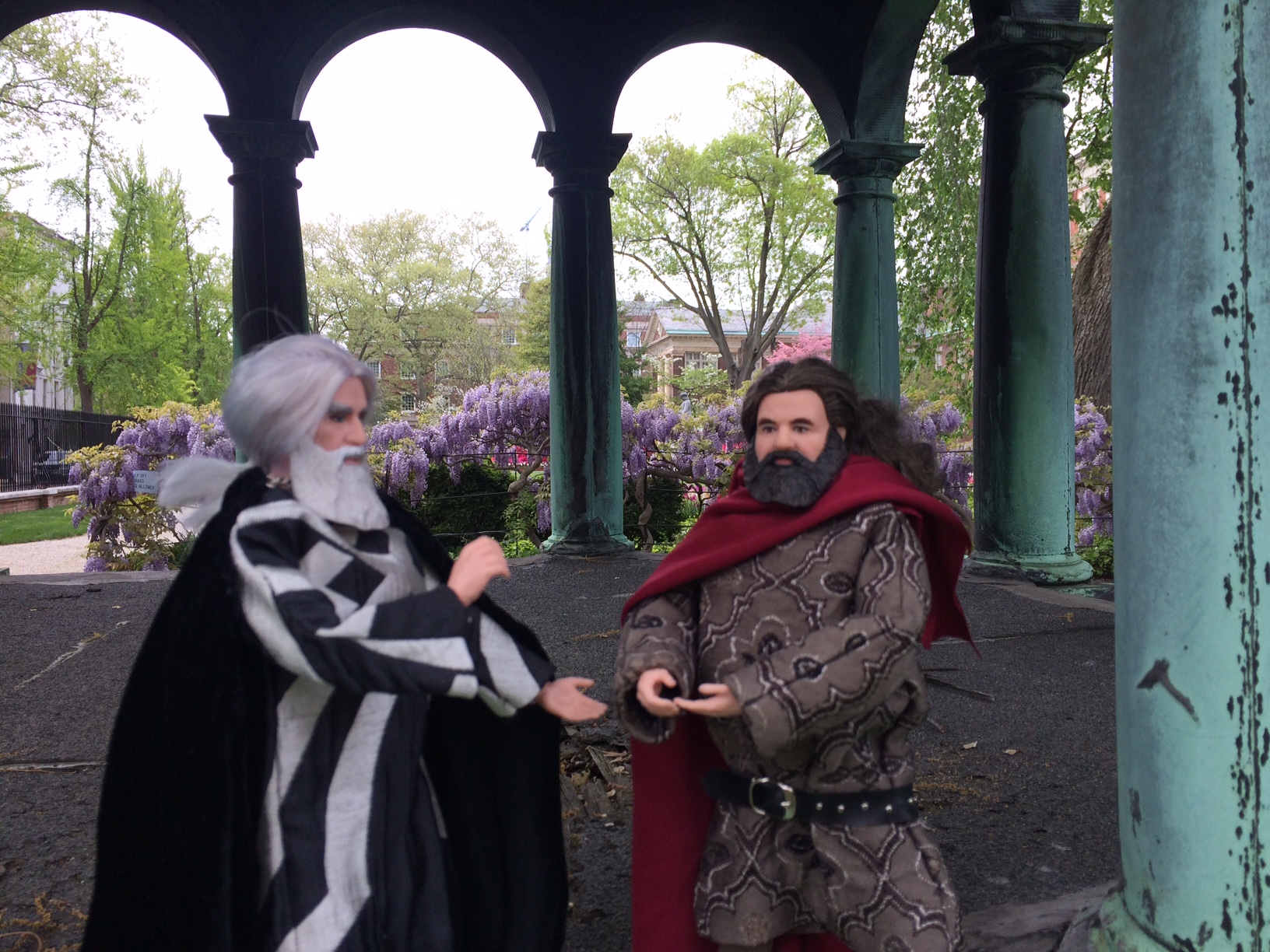 Mihajlo je postavio teške uslove, najgori od kojih je bila zabrana da medju Dušanovim svadbarima budu njegovi sestrići, Vukašin i Petrašin Vojinović. Navodno, "u piću su teške pijanice, a u kavzi ljute kavgadžije" i kao takvi nepoželjni na Mihajlovom dvoru.
Michael was a tough negotiator. Most perfidiously he banned Dušan's nephews from the wedding.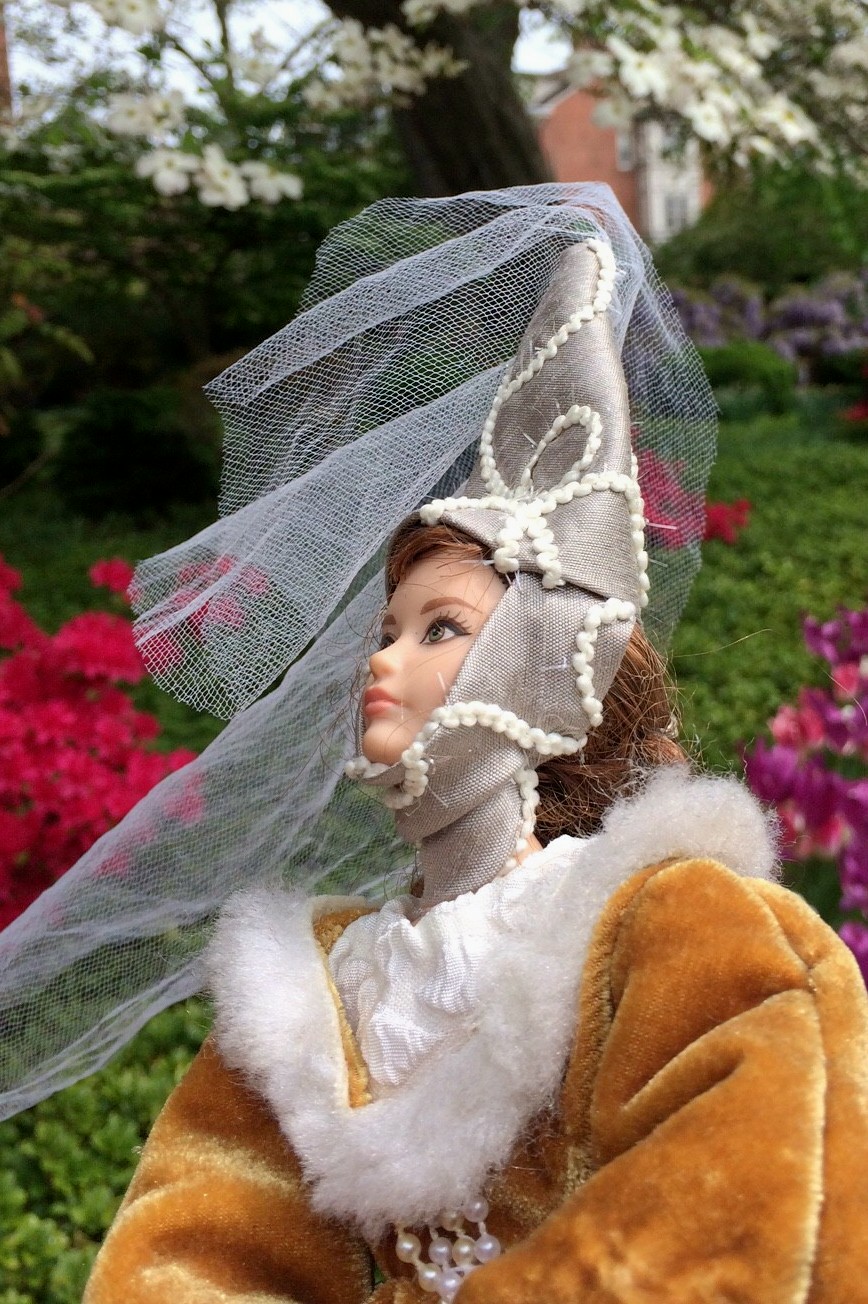 Posle pregovora Todor je prstenovao devojku. Roksanda je dovedena u zamračenu prostoriju u kojoj se zadržala samo na tren. Todor je nije ni valjano video. (Da je osvetljenje bilo bolje video bi lepoticu kao ova na slici iz sunčane bašte.)
Roxana was presented to Todor briefly in a dimly lit room. He did not get a good look at her. (Had the light been better, he would have seen the beauty that the camera captured in the sunlit garden.)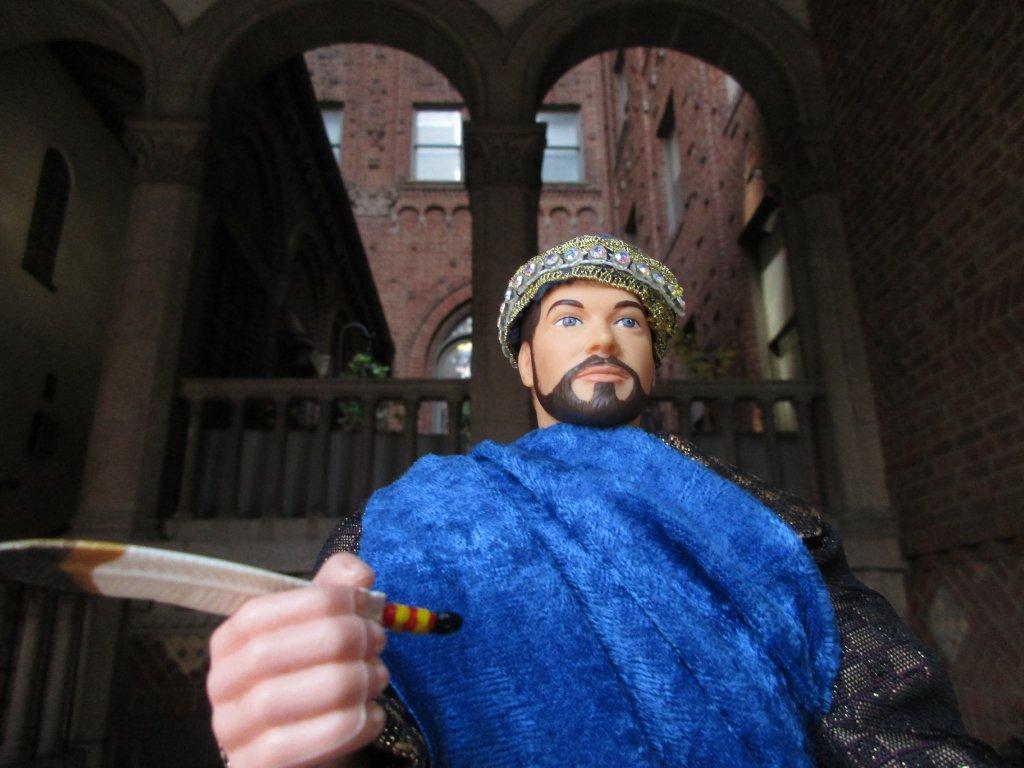 Dušan je skupio silne svate i krenuo u Ledjane. Na putu su ih ugledali Vukašin i Petrašin. Jako su se zabrinuli što medju svatovima nema nikog od Dušanovog roda da mu se, bude li nevolje, u nevolji nadje. Posavetovaše se sa majkom šta im je činiti.
Dušan invited and assembled twelve hundred people. Dušan's nephews were worried when they saw the wedding guests passing without any of their kindred to help Dušan in case of need. Not knowing what to do, the brothers sought advise from their mother.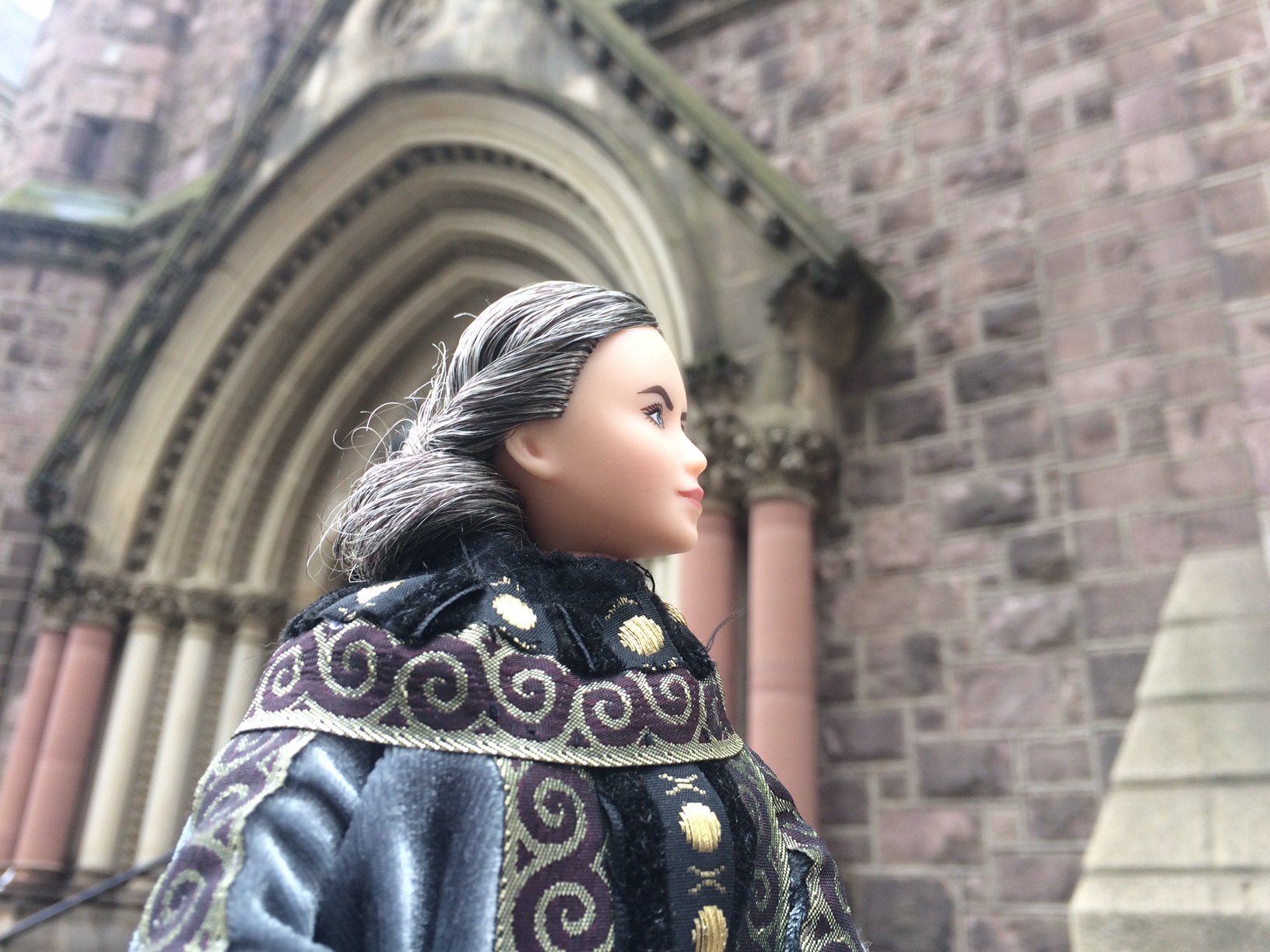 Majka im je savetovala da pozovu kući svog najmladjeg brata Miloša, ali da mu ne kazuju istinu nego da ga namame na prevaru. Neka ga slažu da mu je majka na umoru i zeli da ga blagoslovi. Dušan dugo nije video Miloša te bi Miloš mogao da se priključi svatovima potpuno neznan..
The final decision was to urgently call home Miloš, the youngest Vojinovic, under the pretext that his mother wanted to bless him before her death. Dušan had not seen Miloš for a long time, so they planned that Miloš would join the wedding guests as a perfect stranger.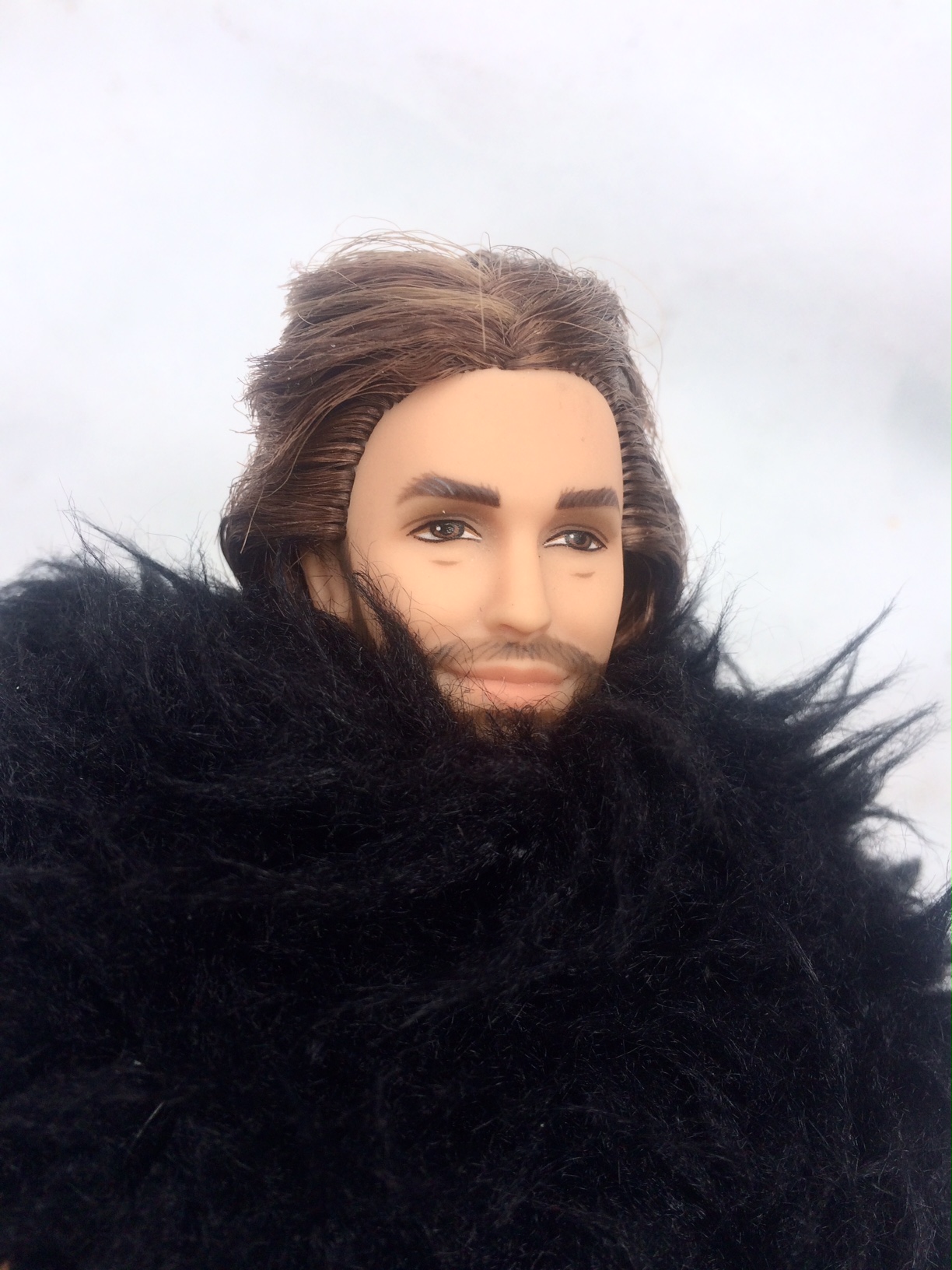 U to vreme Miloš je službovao kao čobanin na Šar planini, verovatno u sklopu svojih feudalnih dužnosti.
At that time Miloš was a shepherd on the Šar Mountain, probably serving a part of his duties to his feudal overlord.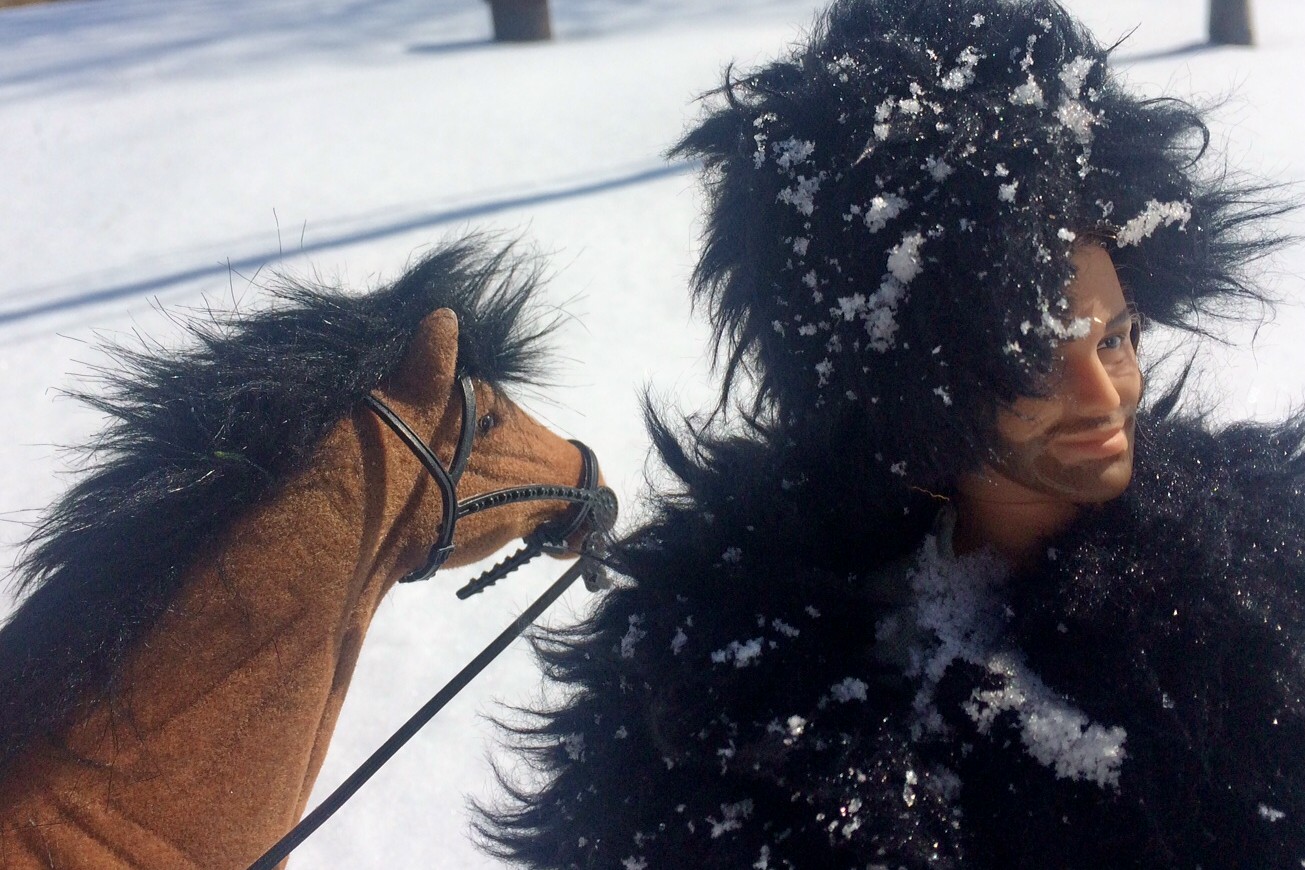 Ne časeci ni časa Miloš se uputi kroz bespuće, po snegu do kolena i snažnom vetru, majci i braći u Vučitrn.
Braving the hostile weather and environment, Miloš hastened home as soon as he read the message.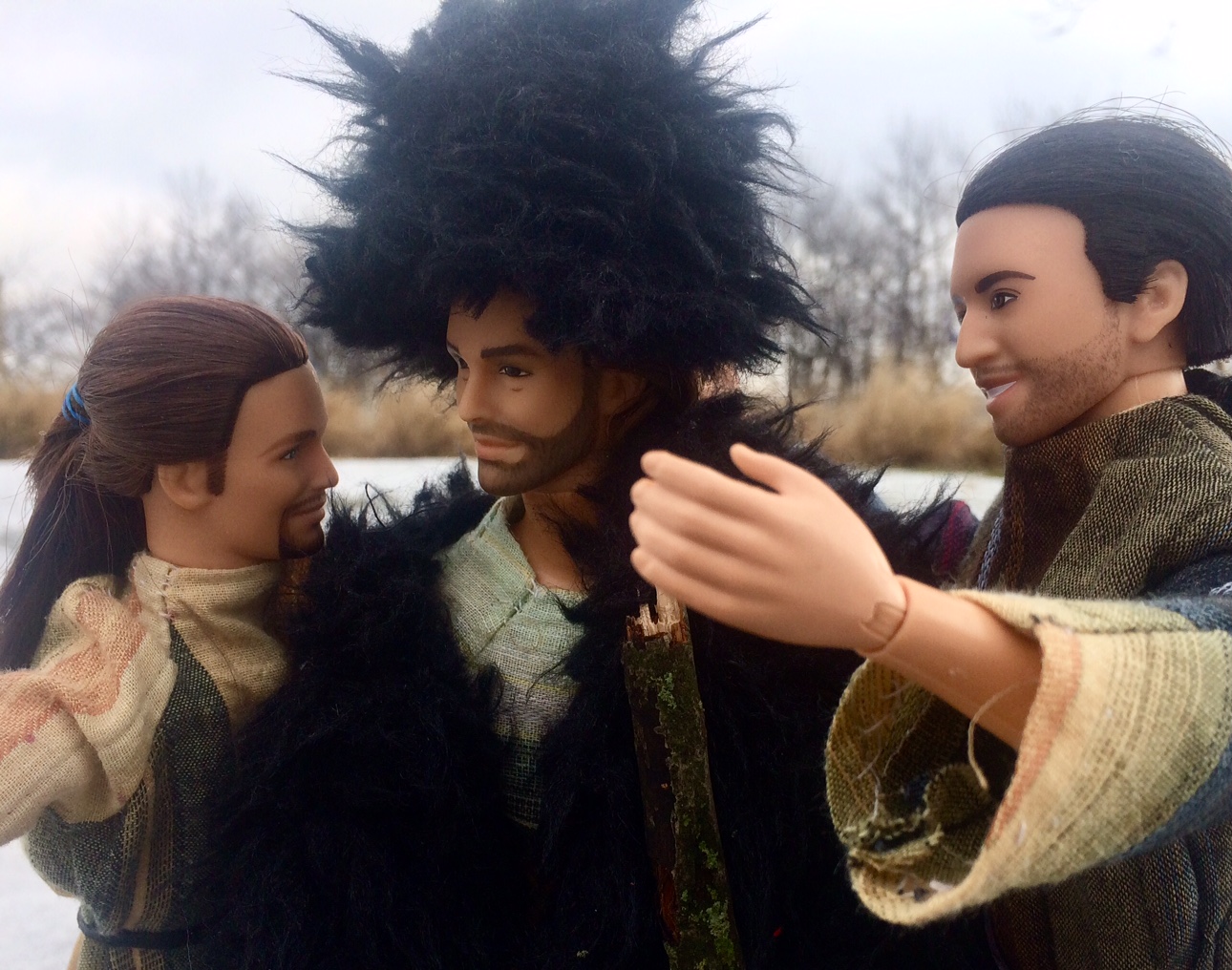 Stigavši pred Vučitrn, Miloš ugleda majku i braću kako ga dočekuju. Silno se obradova i upita: "Zašto, braćo, ako boga znate, bez nevolje jer gradit nevolju?" "Hodi, brate, ima i nevolje" odgovoriše mu braća. Braća mu izložiše ceo plan. Miloš je jedva dočekao priliku da se nadje ujaku u mogućoj nevolji: "Hoću, bogme, moja braćo draga; kad ujaku neću, da kome ću."
Braća ga opremiše za put kako valja. Bogatu odeću su sakrili bugar kabanicom. Pod kabanicom i sa šubarom na glavi Miloša niko nije mogao da prepozna.
Svatovi su ubrzo stigli pod zidove grada Ledjana.
Miloš loved the family plan. The Bulgarian cloak and fur hat hid Miloš's true identity and the rich outfit the brothers had provided for him.
Soon Dusan's entourage reached the ramparts around the city of Ledjane.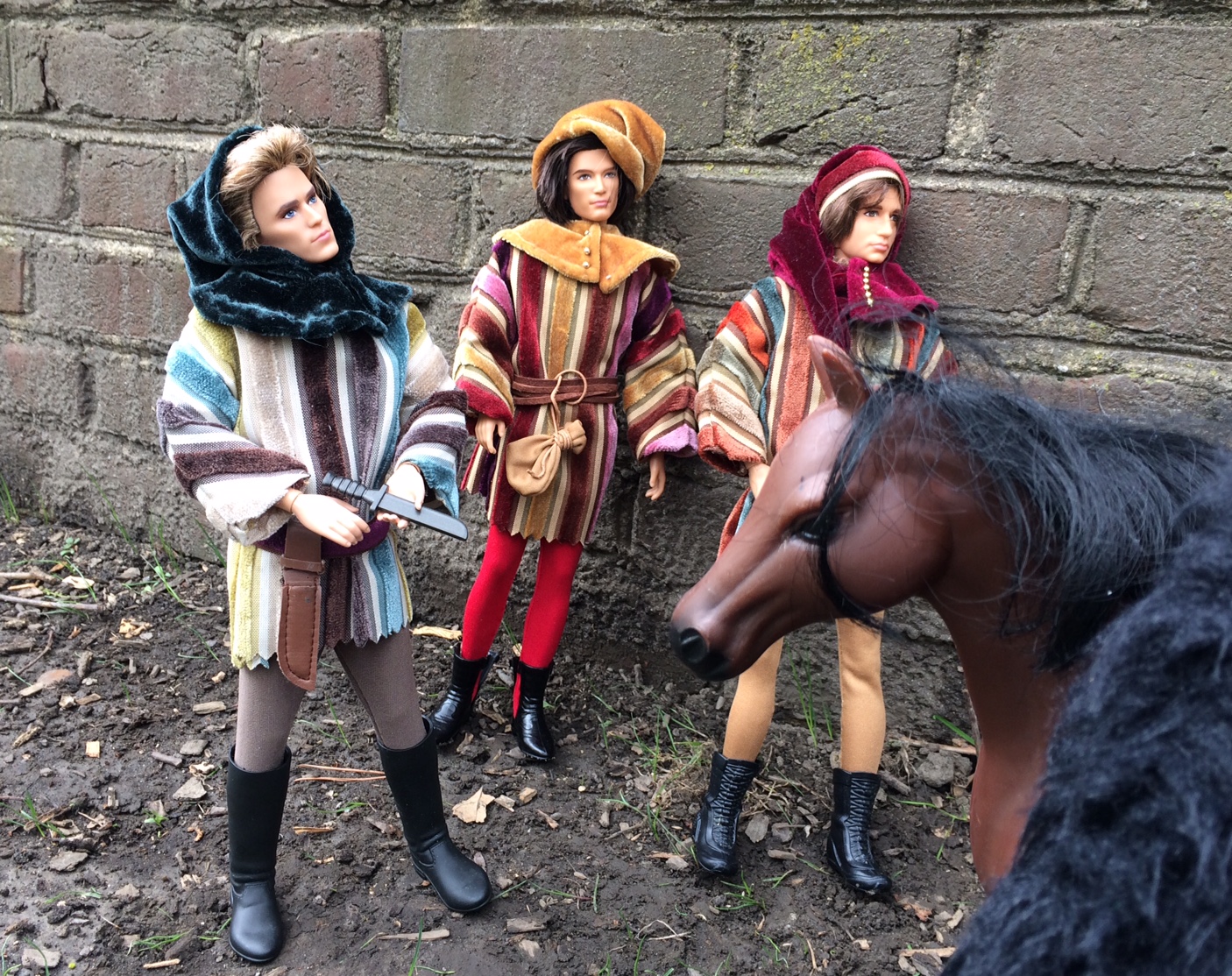 Pod bedemima Ledjana Miloša su opkolili nikogovići koji su bacili oko na Miloševog kulaša. Misleći da će lako s čobaninom, prvo su tvrdili pazar da što više ućare, a kad su uvideli da ne mogu milom, zapretili su Milošu silom. "Sila otme kule i gradove, kamol' meni konja otet neće." odvrati im Miloš, izvuče skrivenog šestopera zlatna, te udari po šićardžijama dok se ne razbežaše na tri strane sveta.
Under the ramparts of the town, three hustlers admired Miloš's horse. They tried to get the horse first by tricks, then by force. Whenn he had enough of them, Miloš brought forth his gold, six-pointed mace and began striking the hustlers until they ran away.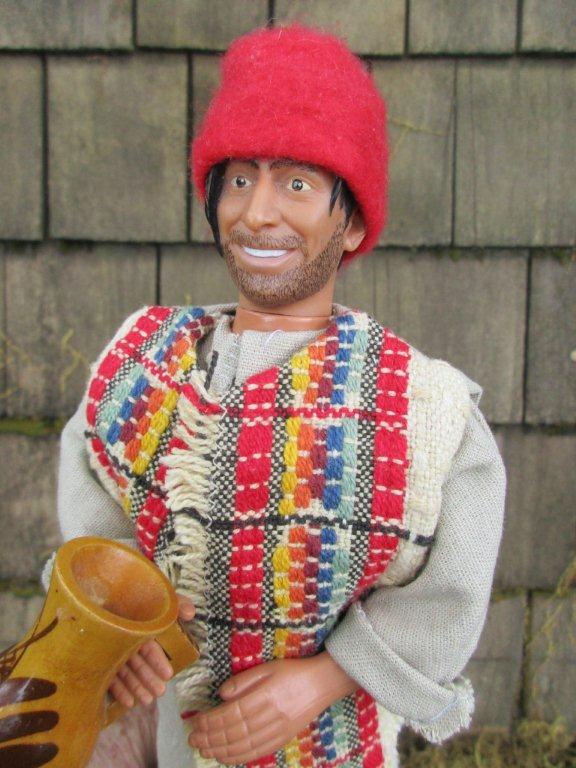 A evo kako je narodni pevač šaljivo opisao sledeći dogadjaj u mehani. Kada mu je Miloš zatrazio vina, mehandžija ga je odbio jer za njega "nisu čaše pozlaćene" nego "bugarska kopanja" što bi se prevelo da bi mu dao da pije samo iz valova. Miloša su takav bezobrazluk i nipodištavanje razljutili, te je mehandžiju "lako udario, tri mu zuba u grlo sasuo". A vinom se sam poslužio i napio.
Miloš asked an inn-keeper to bring him some wine to drink. The inn-keeper refused the request using some very abusive words, so Miloš knocked three of his teeth down his rude throat.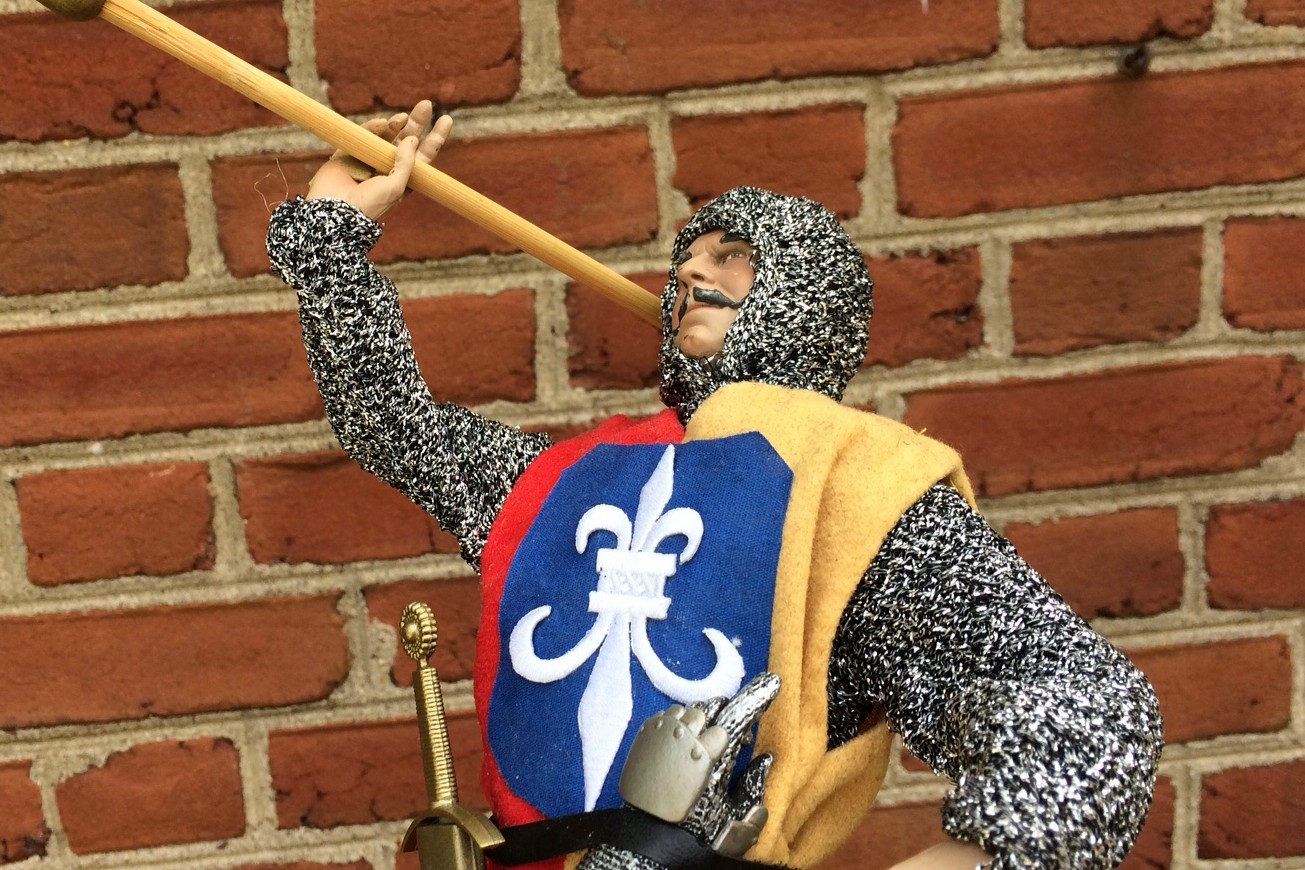 Idućeg dana glasnik objavi da Mihajlov zatočnik, što je plaćenik koji se bori umesto svog gospodara, izaziva na dvoboj Dušana ili Dušanovog zatočnika. Prvi put se Dušan uhvatio za glavu i zakukao što nema kraj sebe nikog svog da mu se nadje u nevolji. Naravno da se Miloš javio, naravno da su ga svi ismevali misleći da je čobanin koji ni kopljene zna dobro da drži i naravno da je pobedio.
The next day king Michael announced that his champion challenges to duel Dušan. Unless he wins, Dušan would not leave Ledjane alive. Miloš volunteered to be Dušan's champion and won the duel.
Drugi zadatak, koji je Mihajlo smislio da bi Dušan mogao da dobije devojku, bio je da preskoči na konjima udenuta tri plamena maca. I opet se niko nije javio da ga zameni osim Miloša. I opet su mu prebacivali da u bugar kabanici nije prikladno obučen za preskakanje mačeva na konjima. "Kojoj ovci svoje runo smeta, ondje nije ni ovce ni runa!" je bio Milošev odgovor . I taj zadak je Miloš lako obavio, ali nema slike koja je dobro uhvatila trenutak preletanja preko mačeva na konjima. Postoji samo slika sa jednog od prvih treninga za zadatak.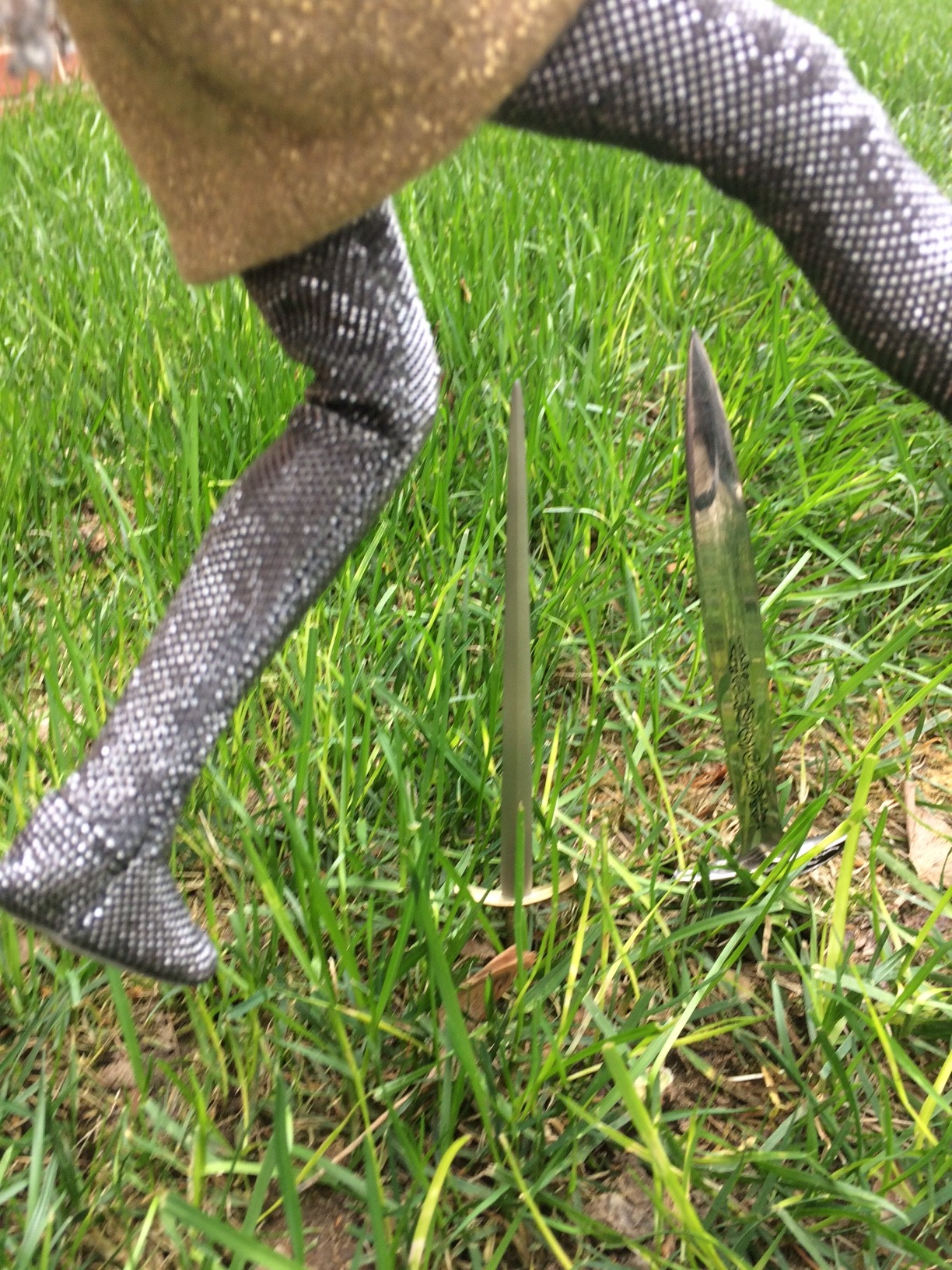 The next task was to jump over three swords set aflame and placed on the backs of three horses.

(Because of technical problems there is no usable shot of the difficult leap. The photo between the Serb and English texts was made when Miloš was practicing.)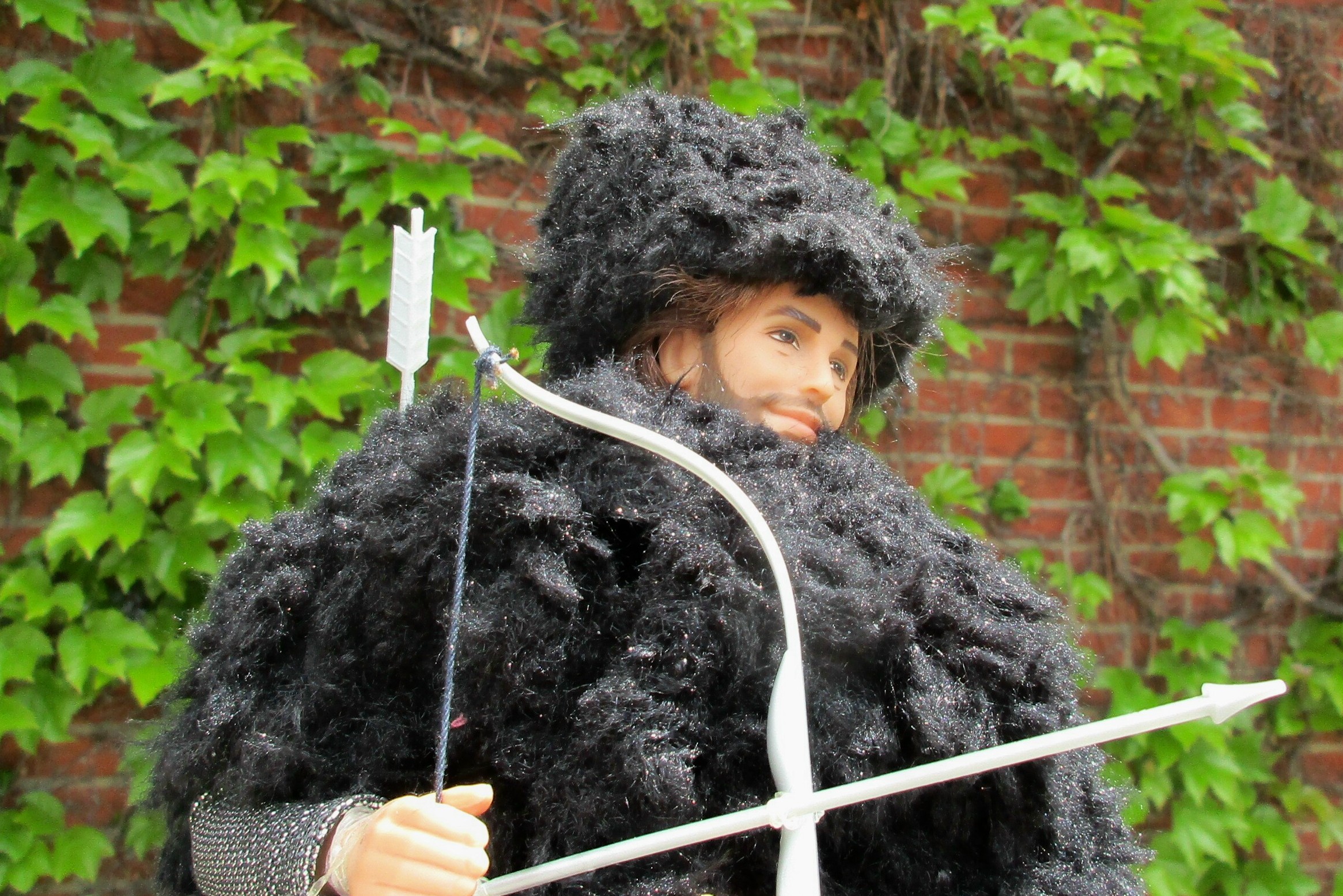 Sledeći zadatak je bio za dobrog strelca. Trebalo je da se kroz alku strelom pogodi jabuka od zlata na vrhu koplja postavljenog na najvisu kulu grada. Odlicnom strelcu Milošu je bilo lako skinuti jabuku i odneti je časnom caru.
The next task was to strike through a ring a gilded apple on a lance placed atop the highest tower in the town. This was not a hard task for such an extraordinary archer as Miloš.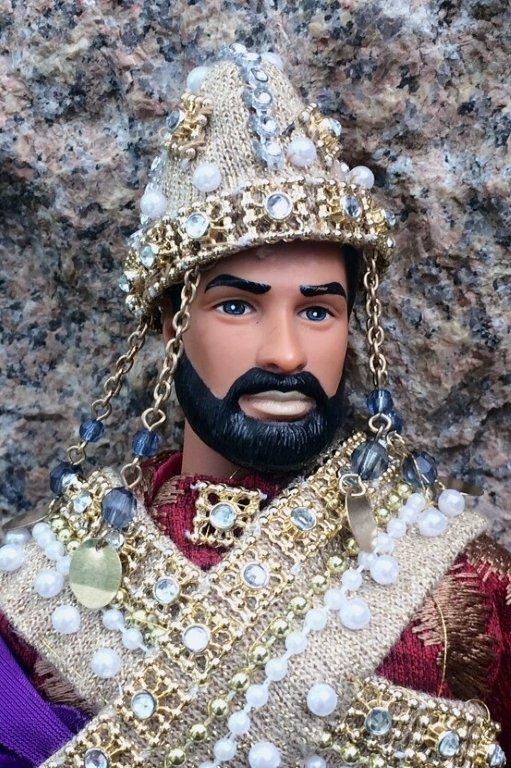 Više nije bilo kuda. Došao je čas da Mihajlo preda caru obećanu devojku. Glasnik je, medjutim, oglasio da su dva kraljeva sina pred bedeme izveli tri devojke, "tri djevojke, sve tri jednolike, a na njima ruho jednoliko; idi poznaj koja je Roksanda; ako li se koje druge mašiš, nećeš izać ni iznijet glave, a kamoli izvesti djevojke". Dušan pozva Todora da ide i pozna Roksandu, a Todor priznade caru da je nije dobro video u mraku. I opet se Miloš javio, a car prihvatio pomoć.
It was high time for Michael to deliver his daughter to the tsar. His last trick was to send out three beautiful maidens, all looking alike and dressed identically. Dušan was to pick out Roxana or face death. The vizier was of no help as he never got a good look at Roxana. It was Miloš again who knew how to solve the problem.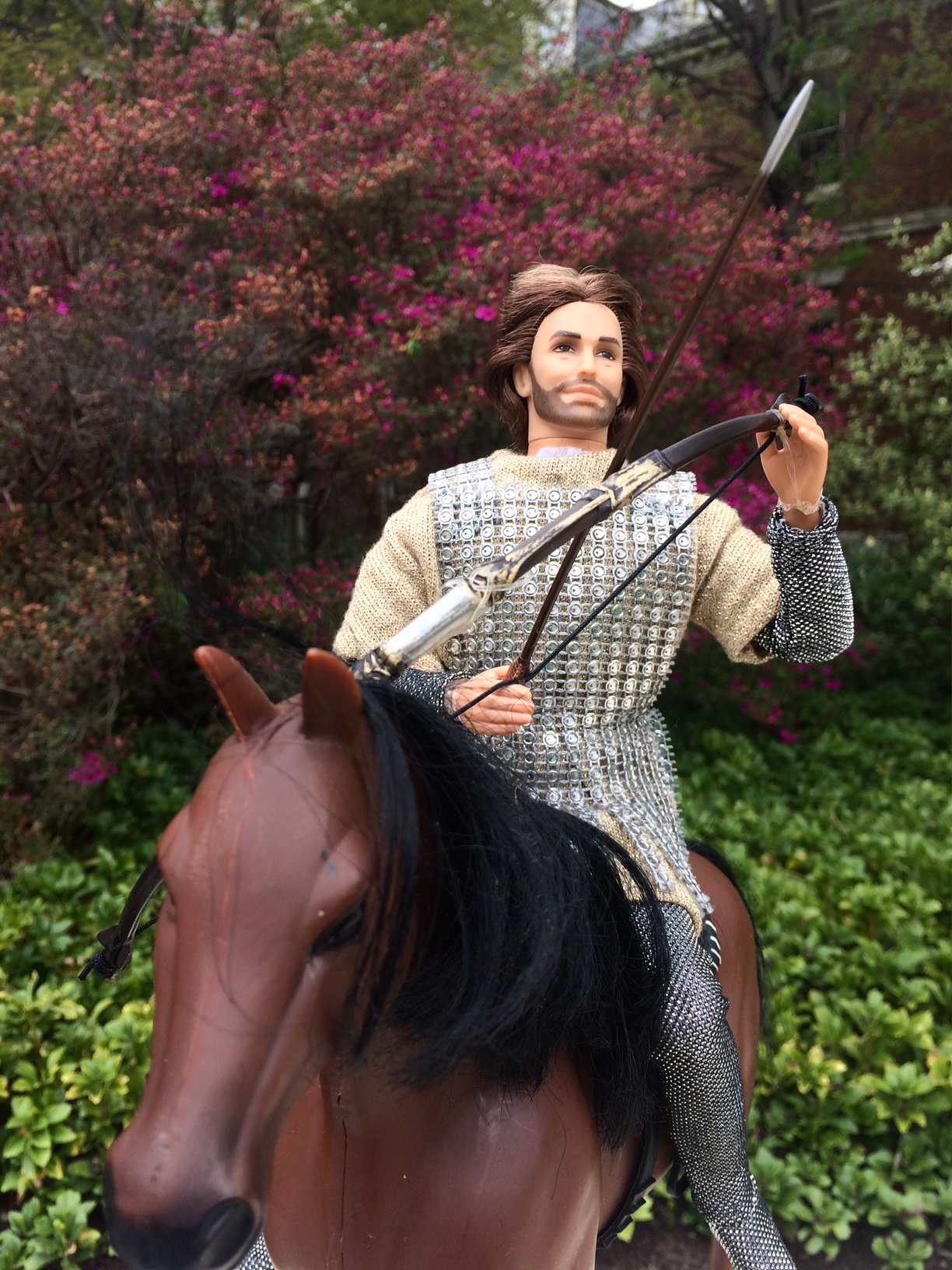 Miloš je zbacio sa sebe bugar kabanicu i zasjao kako su ga braća opremila. Na njemu je bila "tanana košulja, do pojasa od čistoga zlata, od pojasa od bijele svile; na košulji tri tanke dječerme, pak dolama sa tridest putaca, po dolami toke sakovane, zlatne toke od četiri oke; a na noge kovče i čakšire". ( Ako neko misli da Miloš na slici nije bas tako obučen, to je zato što i nije. Dizajner je uzeo sebi slobodu da ponešto izmeni.)
Miloš je prosuo pred devojkama nakita i nakita, isukao je svoj mač i rekao: "Koja je tu Roksanda djevojka, nek savije skute i rukave, neka kupi burme i prstenje, sitan biser i drago kamenje; ako li se koja druga maši, vjera moja tako mi pomogla, osjeć'ću joj ruke do lakata."
Miloš got rid of his disguise and presented himself as the fair knight that he was.
He pulled out his sword and threw some jewels in front of the girls already scared to death. He told them that he wanted Roxanda to gather the jewelry. Should any other girl pick up the jewelry, he would cut of her arm to the elbow.
"Kad to čuše tri lijepe devojke, obe krajnje srednju pogledaše. " I sve bi jasno.
When the lovely girls heard these words, the first and the last one in the row looked at the middle one. All was clear to Miloš.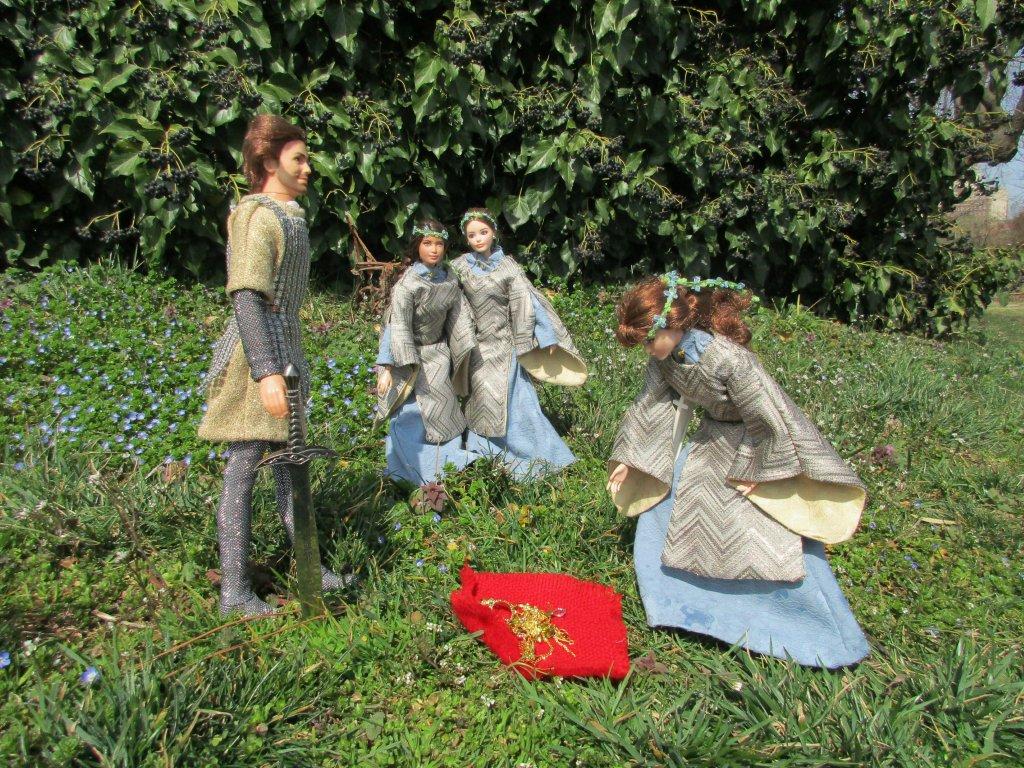 Roksanda se savi i pokupi zlato, biserje i drago kamenje, a druge dve pobegoše. Miloš ih sustiže, obe uhvati za ruke i sve tri odvede pred Dušana.
The middle one, Roxana, bent and picked up the jewelry. The other two tried to escape but Miloš caught them and led all three to the noble tsar.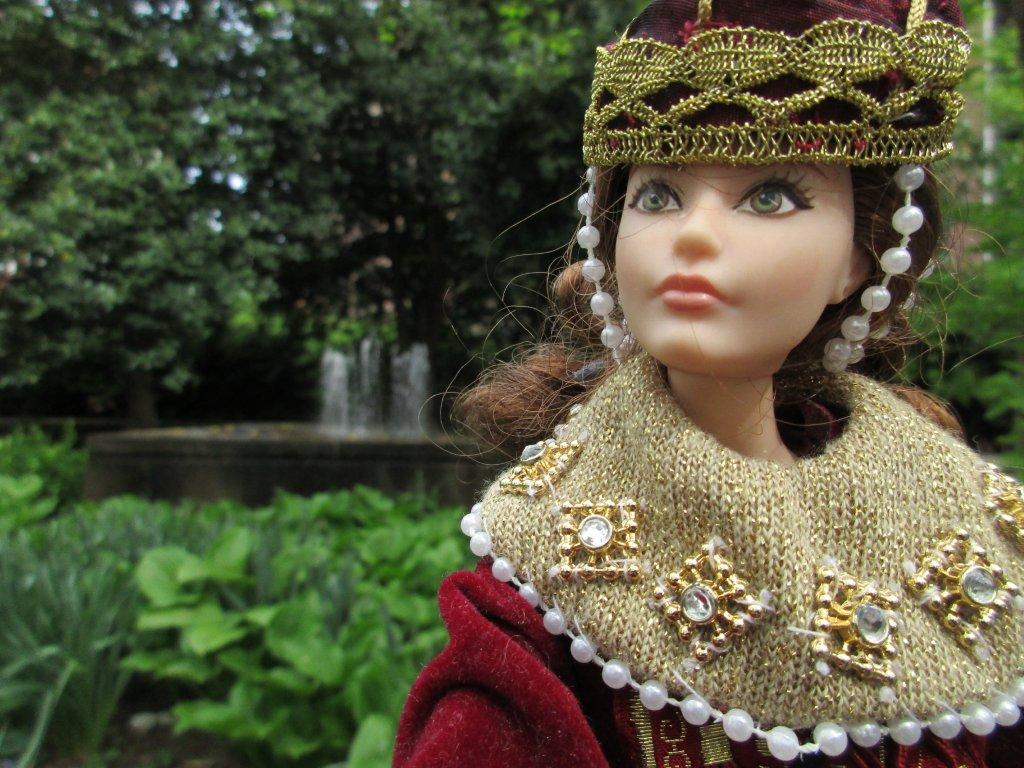 "Caru dade Roksandu djevojku i dade mu jednu uz Roksandu, a treću je sebe ustavio."
Miloš gave to Dušan Roxana and another girl to accompany Roxana.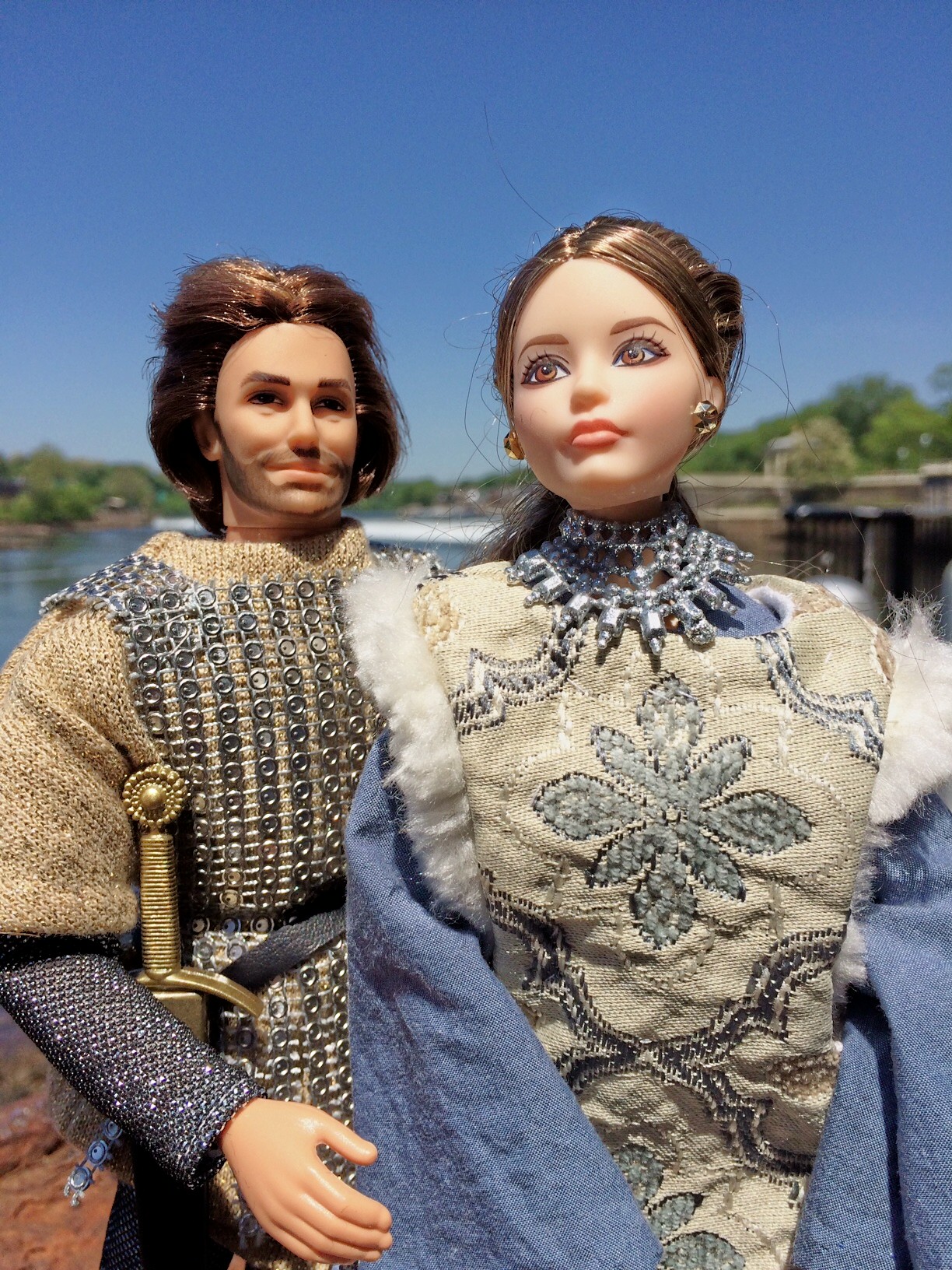 Mala digresija: Miloš je za sebe zadržao najlepšu. Bila je lepša i od lepe Roksande samo što to nije bilo umesno da se glasno prizna.
It is not stated in the song but Miloš kept for himself the loveliest girl. She was more beautiful than the beautiful Roxana, but it was not politically correct to say so.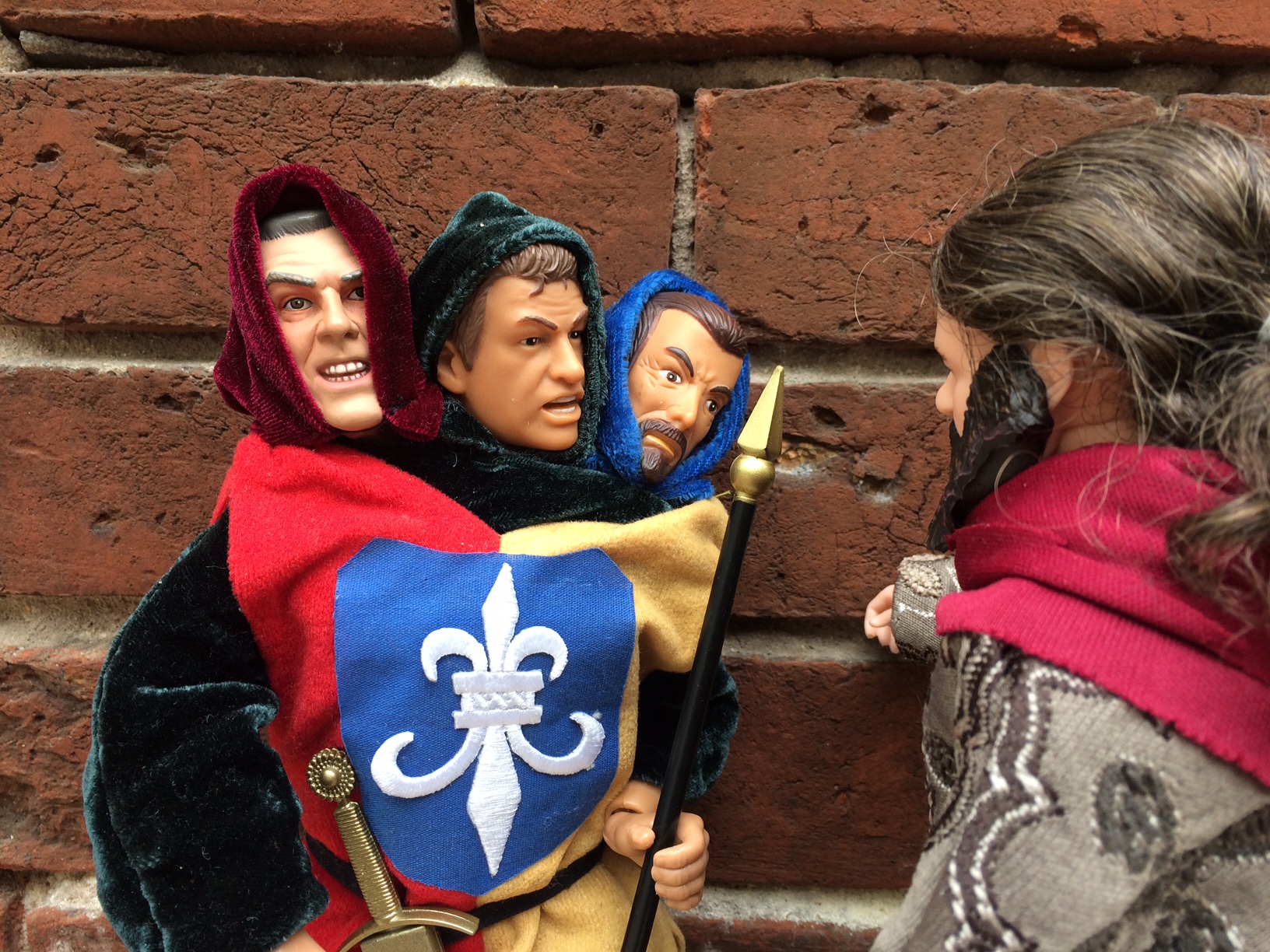 Zbog nedostatka aždaja u četrnaestom veku Mihajlo je na dvoru držao vojvodu Balačka. "Na Balačku jesu do tri glave, iz jedne mu modar plamen bije, a iz druge ladan vjetar duva." Treća mu je verovatno sluzila da opšti sa običnim ljudima.
Dragons being extinct in the fourteenth century, king Michael kept a three-headed duke by the name of Balačko in his court. Balačko's one head could throw blue flame, from the other cold wind blew. The third one was probably just for communication with ordinary people.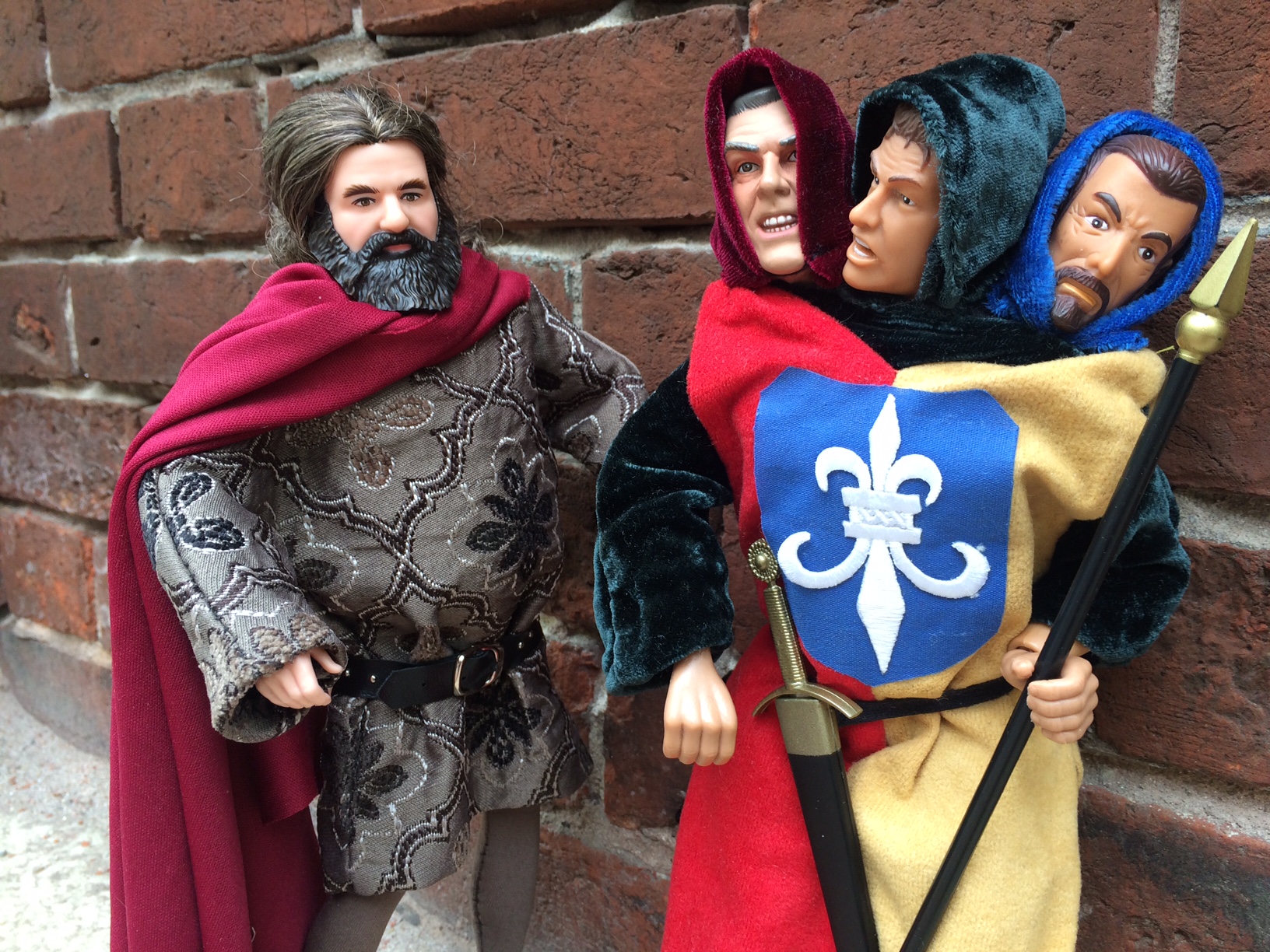 Kad je car Dušan sa svitom poodmakao iz Ledjana, kralj Mihajlo naredi Balačku da njemu i kraljici povrati Roksandu. Za nagradu će je roditelji- o, strahote – dati njemu na poklon.
As soon as tsar Dušan and his entourage left Ledjane, King Michael ordered Balačko to bring back Roxana whom he would then, oh, horror, give to Balačko as his prize.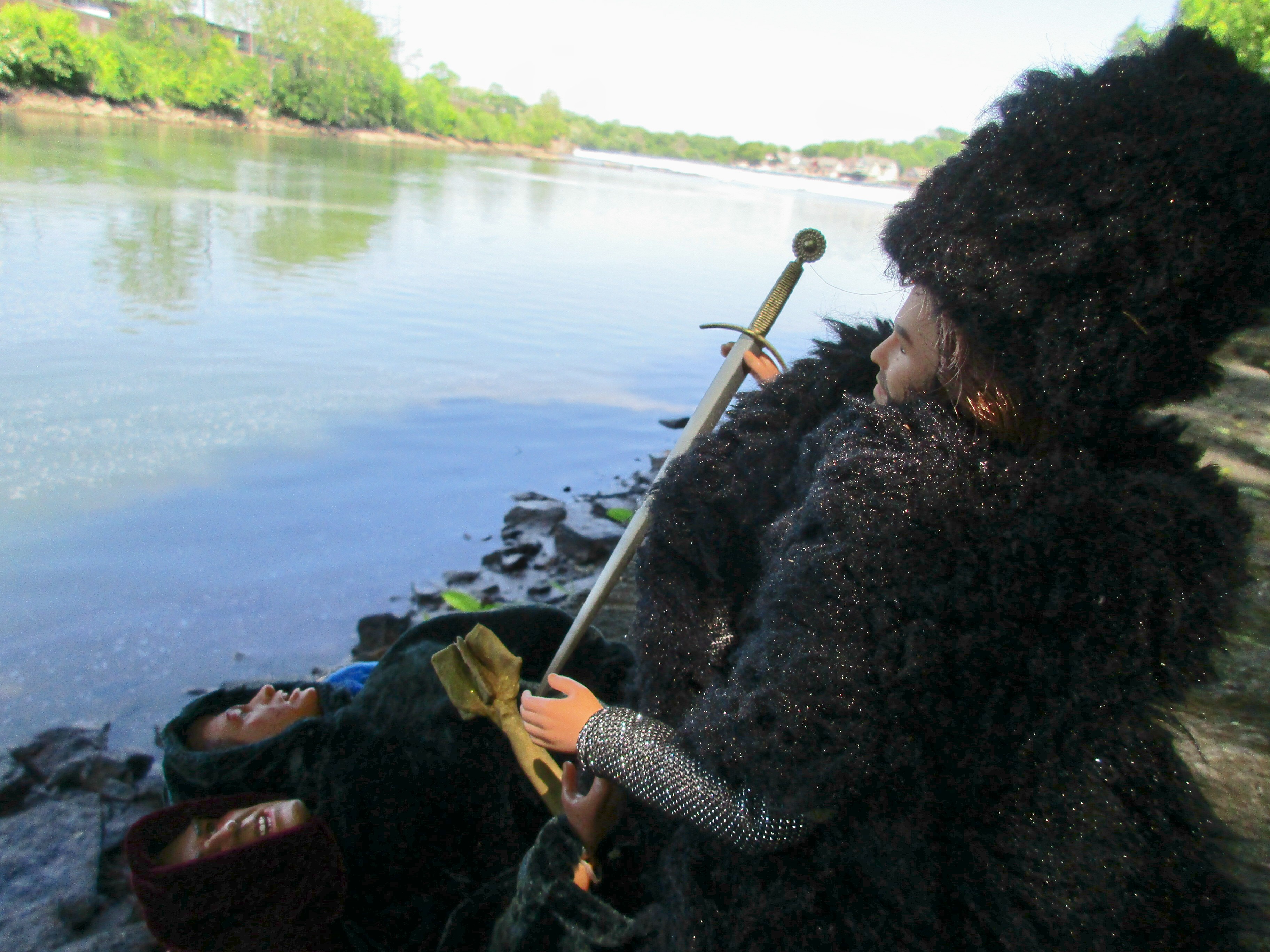 Obračun Miloša sa Balačkom je suviše strašan i jeziv da bi se ovde opširnije opisivao i ilustrovao. Neka bude dovoljno da su sve tri Balačkove glave završile u kulaševoj zobnici.
The showdown between Milos and Balačko was too gory to be recounted and illustrated here. Suffice it that all three Balačko's heads ended in the feed-bag of Milos's horse.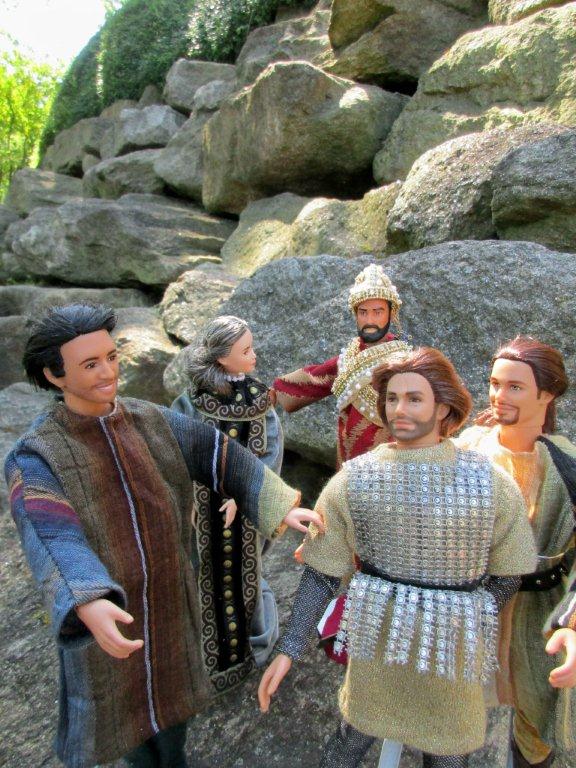 Pouka koju je car Dušan izvukao iz dogadjaja koji su ga snašli kad se ženio glasi: "Teško svuda svakom bez svojega."
The lesson tsar Dušan learned from everything that passed was: "Woe to the one who is away from home without a kin to help him in need.